Beef Totchos
{{likesCount}}
Smile approved!
DESCRIPTION
Crispy tater tots covered with taco seasoned beef, drizzled with creamy white queso, & topped with tomato salsa.
~Tots offer great plate coverage and reduced sodium. *When compared to Ore-Ida® Tater Tots® (OIF00215A)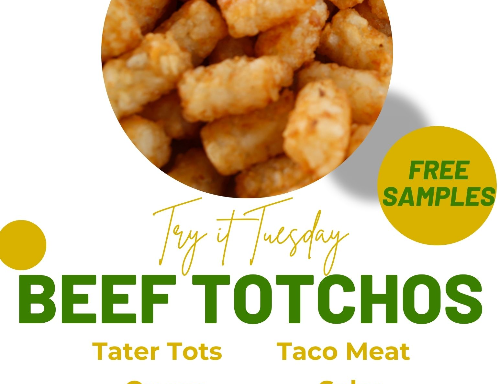 Directions
1. Beef Taco & Queso Heating Instructions (Steamer)
Place unopened pouches in a perforated full-size pan.
Heat for approximately 30 minutes and check for an internal temp. of 135°F (Serv Safe Standard 135°F for 15 seconds). Your cook time may vary according to quantity of products being heated.
2. Tator Tots Heating Instructions:
Arrange tots in a single layer on a sheet tray.
Place tots in a pre-heated 425°F convection oven.
Heat for 12-17 minutes.
Note: For best results, cook from frozen state using recommended time & temperature. Always cook to light golden color.
3. Assembly:
Portion 2.52 oz (by weight) of tater tots in a fry bag or hinged container.
Portion 1.58 oz. (by weight) of beef taco meat over tots
Ladle 2.0 oz. (by weight),#16 scoop or 1⁄4 cup of Queso Blanco into a portion cup and place into container.
Top with 2 oz. salsa (or serve on the side).