Steve Pihl serves at the senior brand manager of potatoes for McCain USA Foodservice. With more than a decade of experience in the foodservice industry and an MBA in Marketing, Steve knows what it takes to reach consumers through foodservice operations. There are lots of questions surrounding takeout and delivery and below, Steve provides great insight into the off-premise dining trend that isn't going anywhere.
Q: We've seen takeout and delivery sales soar over the last few years. Do you anticipate that growth to continue? Why or why not?
Yes, in a flat restaurant industry, the takeout and delivery categories have been some of the only bright spots. They're rooted in a fundamental shift in the way consumers want to order and eat their meals. 
People want to fit food into their busy lifestyles and delivery allows them to eat with minimal disruption. 
Q: What are the peak times for takeout and delivery?
For delivery, dinner is the biggest time, followed closely by lunch. However, it's important to note that old dayparts (breakfast, lunch and dinner) are fading in comparison to all-day eating. That is reflected in delivery, too. As an example, breakfast for one person may be lunch for another. While one person may eat three big meals a day, another may eat five small meals.
Q: What is the benefit of offering a takeout and delivery program?
Not every operator is excited about the boom in off-premise dining, particularly delivery. It can be difficult to feel like you have to hand quality control over to a third party delivery company. They also don't like what third party delivery companies charge for their services, as it may cut into margins.  However, these operators realize they must participate to give their guests what they've come to expect. The operators who participate find there are benefits including higher check averages and exposure to new customers.
Q: What is the biggest challenge that comes along with implementing a takeout and delivery program?
Once you get that customer, you need to deliver quality food so they keep coming back. With easy access to any restaurant, consumers need a good reason to order twice from the same place. Operators must do what they can to menu items that travel well and look at ways their packaging can hurt or help ensure quality.
Q: How does an operator ensure they are choosing the right products and packaging for takeout and delivery?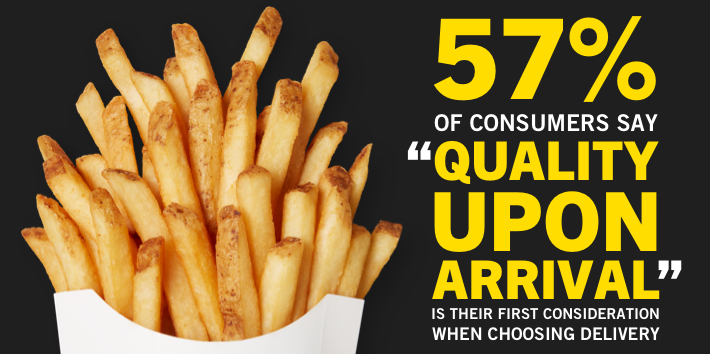 According to Technomic (2018), 57% of consumers say "quality upon arrival" is their first consideration when choosing delivery. It's important for operators to make sure their food makes a good impression every time.
McCain SureCrisp™ Fries stay crispy for up to 30 minutes after they are taken out of the fryer,
making them the perfect product for takeout and delivery. Learn additional tips on the best packaging, how to simplify delivery and mobile ordering here.
Q: How can an operator ensure customer satisfaction when it comes to off-premise dining?
There are never any guarantees, especially with delivery. However, operators can give themselves the best chance for customer satisfaction by focusing on the things that guests want in quality delivery. But, it's changing the way operators have been doing business up to now. Depending on the menu item, operators need to invest in packaging that helps it survive the journey. Is the burger staying hot without making the bun soggy and the lettuce wilt? Are the fries crispy? Is the milkshake still frozen?
Q: Should all menu offerings be made available for takeout and delivery?
Many operators have tried this approach, but sometimes guests won't want to follow the rules. We've seen operators try to remove fries from their menu, but nothing seems to be a good enough substitute for their guests. Recently, McDonald's provided a report back on the top items they served in their first year of partnership with UberEats. Fries and McFlurries were #1 and #5, respectively. Those are not items operators really want traveling, but you can't stop consumer demand.
Q: How can a restaurant best adapt to include takeout and delivery while keeping their brand experience on-premise intact?
An operator will have to make adjustments, but they still need to be themselves. You will have an opportunity to introduce your brand to consumers that have never heard of you.
Whatever item an operator is known for needs to be optimized for delivery.  
Do some packaging experimentation.  Try separating ingredients, try different packaging, try venting the containers. Test and learn!