Article
Increase Profits With a Better Happy Hour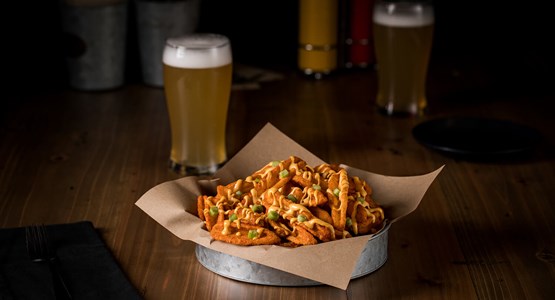 Happy hour is rarely only an hour, but it usually inspires happiness for consumers and operators. The daypart, usually three hours long, is a crowd-pleaser for consumers and lucrative for operators. According to Nielsen CGA's CLIP (Check-Level Insights Pool) data, the typical 15 hours a week of happy hour generate 60.5% of weekly sales for U.S bars and restaurants. The average happy hour check in the U.S. is $68.99.
That average check, which includes food and beverages, generates $8 more than the average check rung up during other dayparts. Operators can make happy hour even more profitable by elevating their food and beverage menus. Here are some ways to cash in on this robust daypart:
1. Offer a Spin on Traditional Favorites
Fried food is a staple for happy hour menus, and adding a new twist to a familiar favorite can help increase sales. "There is a lot of runway for restaurants to start doing a more creative dig into flavors of beer and match that with flavors of pub food," says Victoria Tonini, an advanced cicerone and owner of V Tonini Food and Beverage Consulting in South Lake Tahoe, Nevada.
For example, says Tonini, who is also a chef and sommelier, operators can take formed potatoes such as Tater Tots and raise the flavor profile with chili oil. The juxtaposition of potato and chili oil goes well with Wit, or flavored wheat beer. "You're taking something simple and making it interesting."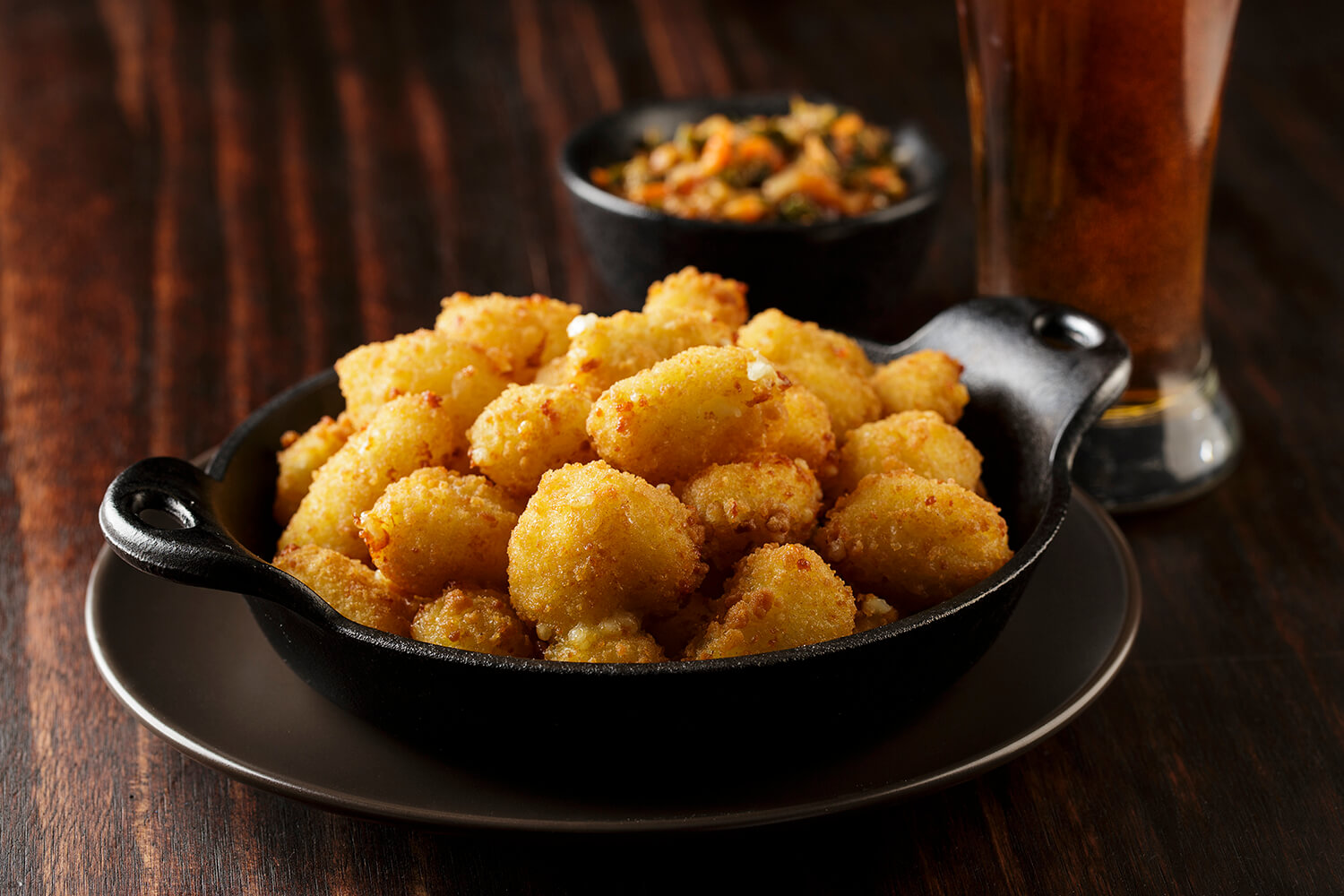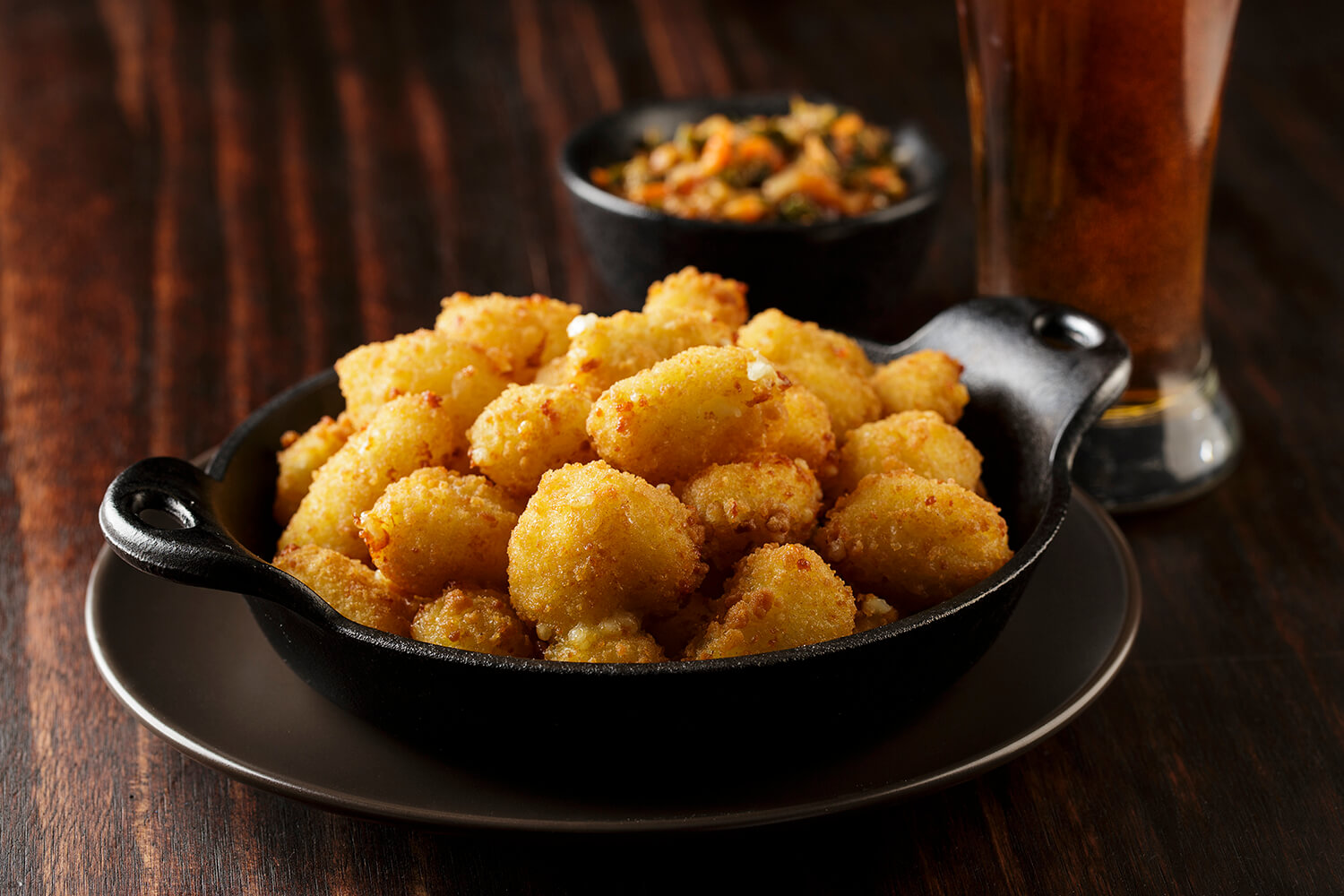 2. Use Complementary Flavors
Other flavors also work well to update legacy favorites. At the four-location Old Town Pour House, part of Bottleneck Management Restaurant Group, one of the most popular bar bites is Cheese Curds, which are made with white cheddar, covered with cornmeal batter and topped with a smoked tomato coulis.
Cheese Curds are a Midwest classic, and a twist on traditional mozzarella sticks, says Paul Katz, corporate executive chef for Chicago-based Bottleneck Management. "Most people would only find breaded Cheese Curds, and I wanted to do a twist on that classic so I decided to hand beer-batter them to order," he says. "Now you have a beer-battered curd that is fried crispy and melts in your mouth when it hits your tongue."
For a counterbalance flavor, there is the smoked tomato coulis. "The smokiness and the acidity of the tomato coulis cut through the fattiness and richness of the curd," Chef Katz says. He adds that the perfect beer pairing for the cheese curds is a good IPA.
3. Include Lighter Beers
IPAs are booming now, especially Citrus Hops Hazy IPAs. "Hazy IPA isn't going away any time soon," Tonini says. "The profitability is very good." The profitability comes from the beer not being filtered, which saves time and labor costs.
Operators should also menu a selection of lighter beers that have less alcohol than IPAs and go well with happy hour foods. "Do you want someone camped out at your bar drinking one IPA for hours, or drinking two or three beers and also having snacks?" Tonini says. IPAs contain 6% to 10% alcohol by volume (ABV), while pale lagers have 4.5% to 5% ABV.
4. Tap Into Hot Trends
Lighter beers pair well with spicy food, and flavors such as Nashville Hot are on-trend now for everything from chicken to plant-based appetizers. "It could be Nashville hot cauliflower," says Chef Brooke Brantley, director of culinary, North America, for McCain Foods.
"Also appetizers with global influences like Korean or regional Chinese are gaining a lot of traction."
Chef Brantley says consumers who want to try these bold flavors are more likely to do so with small plates than with a full meal. "Instead of spending $20 for an entrée, they try something that's bite-size," he says. "If they don't like it, they're only out $5."
Small plates provide a good way to sample new flavors. Operators also employ beer flights, or sets of 4-ounce pours, to encourage customers to try different beverages with these premium appetizers. "Someone seeking out a quality beverage expects a quality food pairing to go along with it," Chef Brantley says. "Not a bag of chips or bowl of popcorn."
Whether it's a new iteration of a popular appetizer or a bold new flavor that is on-trend, operators should update their offerings to satisfy consumers' desire for happy hour food and beverages. For tips on how to boost happy hour check averages, visit www.mccainusafoodservice.com.